Mydoh is doing more than inspiring parents to raise money-smart kids, the venture has also been recognized as an inspiring place to work. Mydoh was recently ranked 11th overall in the Top 50 Inspiring Workplaces in North America for 2022.
The ranking was judged on six factors: culture and purpose, leadership, wellbeing, inclusion, communication, and experience. Mydoh was applauded for its strong leadership. "Mydoh's inclusive culture permeates with passion for their people and their purpose," states Inspiring Workplaces.
"This nomination means a great deal for Mydoh," says Veronica Sepehr, Head of Operations at Mydoh. "We work within two cultures: as a growing fintech company and within the larger RBC Ventures and RBC family." From hiring to offboarding, Mydoh's leadership team works hard to bring these two cultures together, with kindness and authenticity as their guiding values.
Teaching kids about something like financial literacy can be intimidating for parents, especially if they're not a financial whiz. That's where the Mydoh team steps in. The company has worked hard to recruit and retain talent from across Canada, who have a readiness to change the conversation around money and kids. The team's collective — and unique — financial experiences as parents, siblings, immigrants, savers, and investors help inform Mydoh's research, strategic work, and cross-functional execution.
Mydoh's talent also reflects the diversity of their customers: 50 seven per cent of the Mydoh team are female and/or genderqueer, 70 per cent are born outside of Canada, and the team members cover 12 languages apart from English, including Mandarin, Hindi, and Portuguese.
Mydoh began with the shared belief that money management isn't something you are taught, as much as something you learn through experience – and that experience should start early. "The Mydoh co-founders always had a personal commitment to provide a strong and connected working culture," adds Sepehr. That positive work culture is evident with 71 per cent of team members saying that the most enjoyable part of working at Mydoh is the team itself.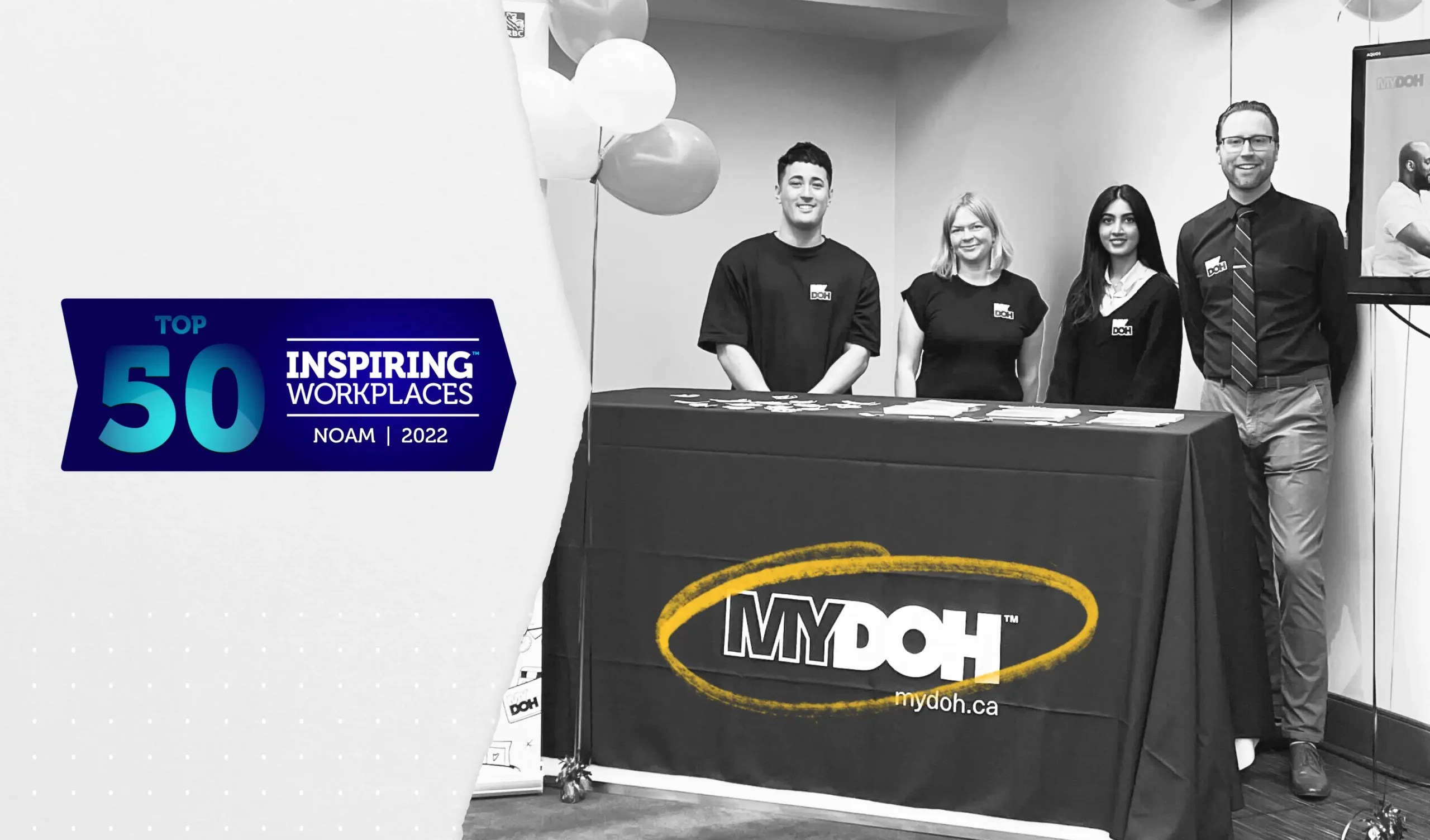 "Our goal for the remainder of 2022 is to continue building cross-functional opportunities, social events, and educational sessions where we continue to learn from and inspire each other regardless of our role at Mydoh," says Sepehr.
Read the official press release from Inspiring Workplaces here and find out more about how Mydoh is helping Canadians become financial literate.