The scholarship promotes inclusivity for career opportunities in the STEAM field and targets girls and non-binary learners as early as high school
TORONTO, July 18, 2023 – Hackergal, a leading charity focusing on tech education for girls and non-binary learners across Canada, and this year's sponsor, RBCx, awarded the first ever Hackergal Scholarships during an award ceremony held on July 11, 2023.
The Hackergal Scholarship program launched this year, awarding Hackergal Scholars who exemplify passion and dedication to diversity and inclusion in the tech industry and take action as catalysts for positive change within their communities. The Scholarship provides $5,000 to two high school seniors pursuing higher education in a STEAM field.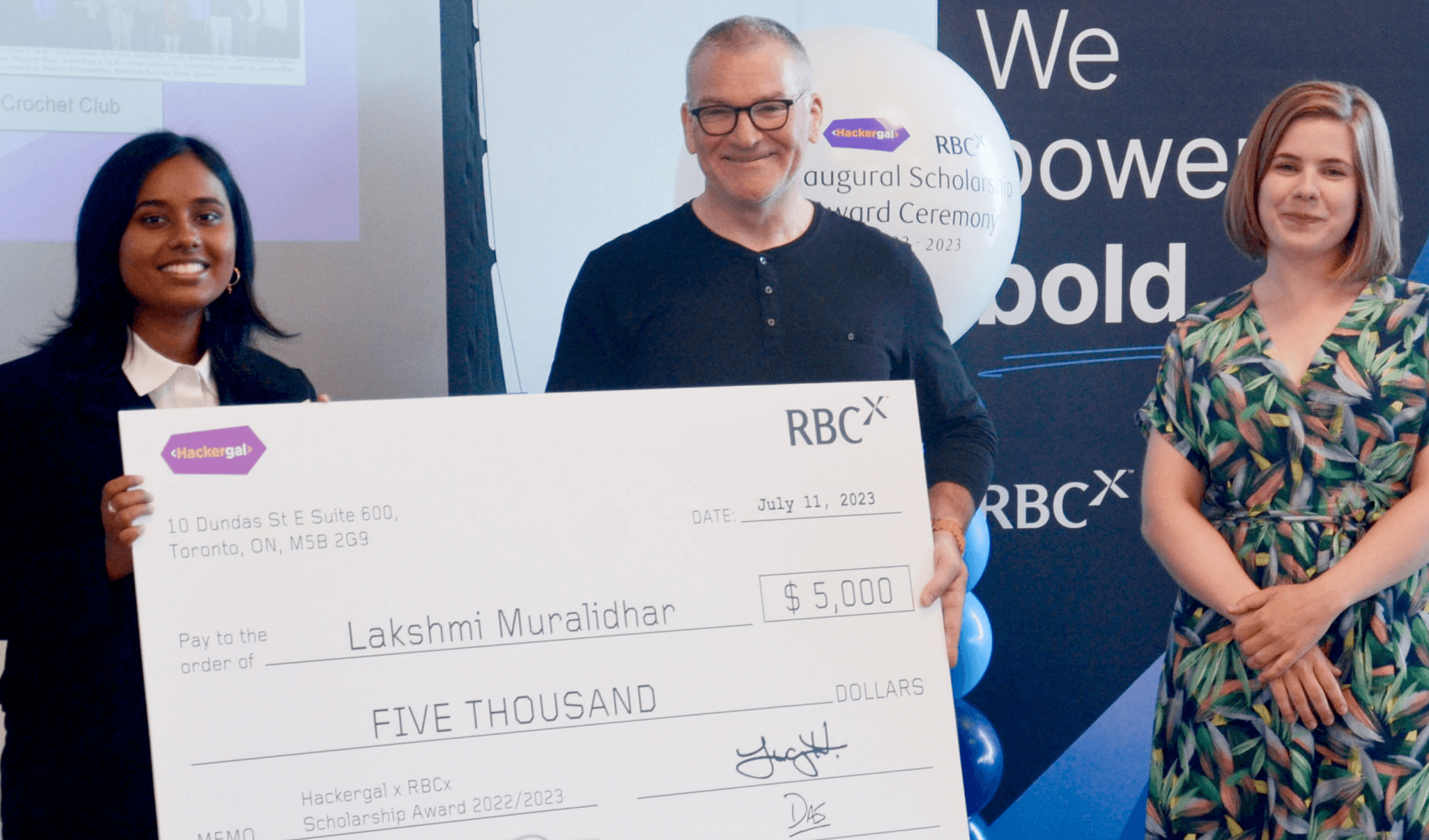 The inaugural recipients of the Hackergal Scholarship are Aruthy Sriketharan of Mississauga Secondary School in Mississauga, Ontario, and Lakshmi Muralidhar of Bramalea Secondary School in Brampton, Ontario.
The ceremony celebrating this year's recipients was held in an RBCx office in front of a full room of guests, including scholarship recipients and their families, Hackergal and RBCx staff, board members, and supporters.
"We are thrilled to launch our first ever scholarship program and support the education of our future leaders. This is a monumental milestone for the organization and our partners, demonstrating progress towards closing Canada's gender gap in technology," said Lucy Ho, Founder and Executive Director of Hackergal. "At Hackergal, we believe that education is a powerful tool for social change, and we are committed to supporting our learners to achieve their goals and make a positive impact in their communities. These Scholars have demonstrated exceptional academic achievement, leadership, and community involvement, and we are honored to be a part of their journey."
As backers of Canada's tech ecosystem, program sponsor RBCx is committed to supporting initiatives that help to break down barriers for a more diverse group of future leaders.
"To power an inclusive space for the next generation of leaders, it's important that we equip organizations with support to drive meaningful change forward," said Nicole Kelly, Head of Marketing at RBCx. "RBCx is proud to sponsor Hackergal in their mission to foster a more equitable tech and innovation industry through education that encourages bolder, brighter ideas."
To qualify for the scholarship, students must have demonstrated academic achievement, leadership, and community involvement, and have submitted a completed application, including a personal statement and letters of recommendation.
For more information about Hackergal, please visit www.hackergal.org.
About Hackergal
Hackergal was founded in 2015 with the mission to introduce girls across Canada to computer science through its hackathon program. The charity's goal is to create a national movement of girls coding, ultimately closing the gender gap in technology and computer science — by sparking their interest and confidence at an early age.
About RBCx
RBCx powers bold ideas, founders, and technology companies. We know building great businesses takes more than just finance, which is why our four pillars – Banking, Capital, Platform, and Ventures – combine to make us the go-to backer of Canadian innovation. We use our deep expertise to support businesses of all sizes and stages, and leverage RBC's extensive experience, networks, and capital to solve tomorrow's big problems.
Media Contact:
Ruby Awan
Marketing Manager, Hackergal
ruby@hackergal.org