RBC Ventures has had a phenomenal growth year, furthering our mission to help solve problems for Canadians and enrich our communities. And we are elated to announce that RBC Ventures has won not one, but two, 2021 RGD In-House Design Awards this year!
The first "Award of Distinction (Judge's Pick)" was given for our Ownr rebrand project, while the second "Award of Merit" was handed out for our Canada United campaign.
"I've known for some time that we have one of the most talented teams of multi-disciplinary designers, creative directors, art directors, writers and marketers in the industry, and I'm thrilled that we are being recognized by our peers with these respected awards," said Hector Crespo, Chief Creative Officer at RBC Ventures and the Head of Strategic Design, the in-house design team recognized with these awards. "With these two awards, particularly for initiatives that are in the service of community-building and entrepreneurship, it further cements RBC Ventures as a cutting-edge team for innovation and growth."
The RGD's biannual Awards Program celebrates the work of ever-growing in-house creative teams in Canada and around the world. Please see below for the official announcements for each award, and join us in congratulating our design team!
Ownr Rebrand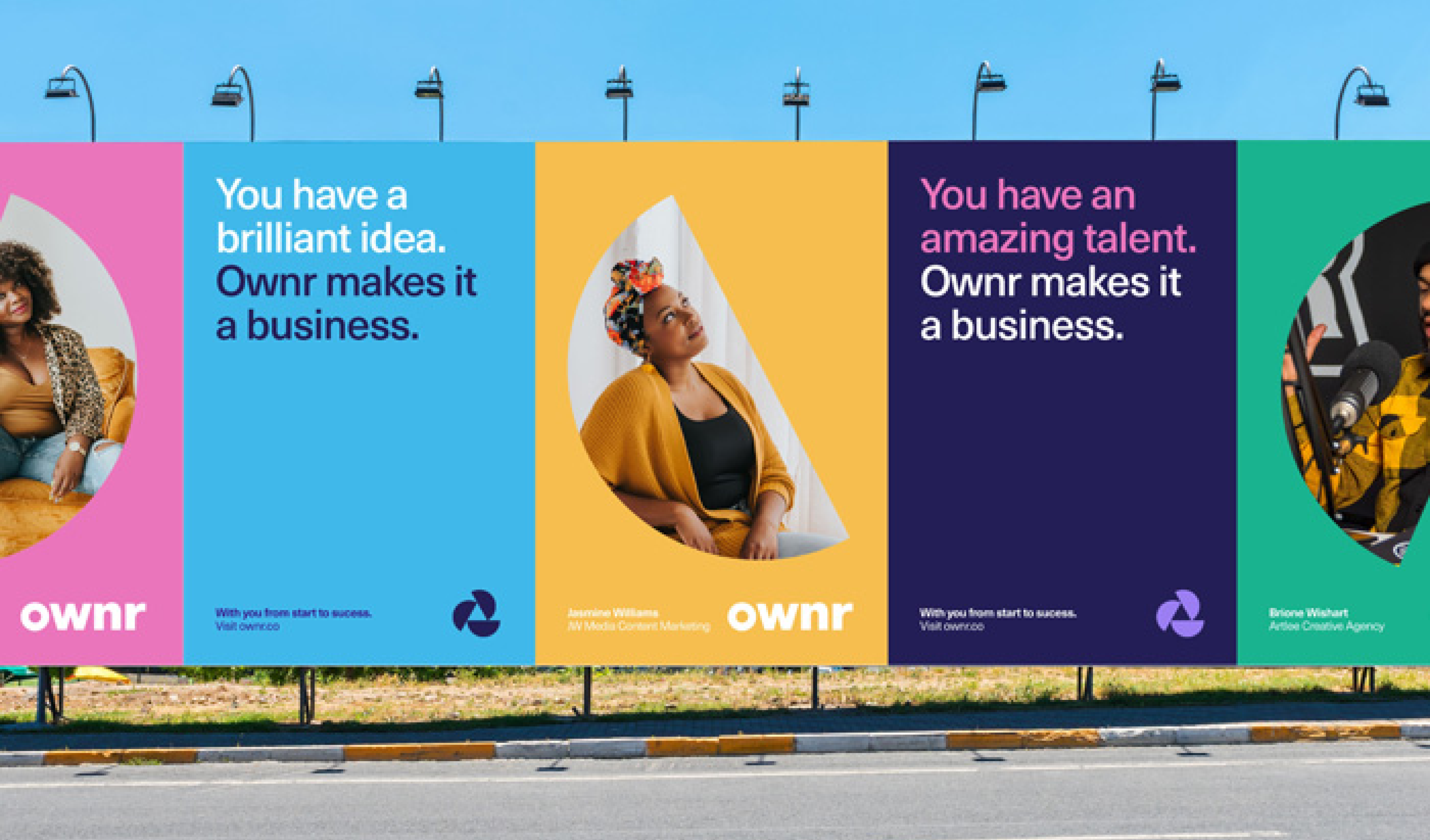 "Given the business to business audience, this project presents itself in a positive and hopeful way through the use of strong visuals and inspiring messaging. The use of colour and imagery reflect the diversity of the brand's entrepreneurial audience in an exciting and compelling way. Despite its diversity, the brand feels cohesive and translates very well across media. It has a modern sensibility that's fun and flexible."
— Laurence Smink, 2021 Judge
With the acquisition of Legal tech platform Founded, which included an expanded suite of products and services, Ownr has become the nexus for entrepreneurs looking to launch their business. The new brand system incorporates contemporary visual elements to better represent the updated offerings. A brighter palette and san serif fonts give the brand more life and provide a modern and mature look. Photos of entrepreneurs help attract and inspire the next generation of Ownr users, while stacked, sorted, animated half circles convey the key messages in an energetic and memorable way. The identity system successfully communicates Ownr's meaning, encapsulating both flexibility and potential for growth.
Canada United
Initiated by RBC along with several dozen 'corporate Canada' partners, the Canada United campaign focused on creating a grassroots movement encouraging Canadians to support local businesses affected by COVID-19. The program included grant funding available for small businesses (up to $5K per business) to offset COVID-19-related expenses, and cash prizes for Canadians who showed their support for small and local businesses, with the core message being to "show local some love". The look was inspired by the feeling of a local farmer market, with colours and design elements maintaining an inviting, grassroots feel. An extensive library of logo options was made available for local businesses to show their connection to the movement. Other campaign assets were created for TV, OOH, print and digital media, plus street-level promotional material and signage.