Hector Crespo (Head of CX and Design) and Nicole Kelly (Head of Marketing and Growth) discuss their approach to the bold new rebrand
Uniting two brands into one bold new vision isn't easy, even when those brands both exist within the extended RBC family. When the decision was made to merge RBC Ventures and RBCx, one of the key challenges was getting the rebranding right.
Branding is foundational to a company's storytelling, marketing, and communications–all of which define how outsiders and insiders alike perceive a business. Getting it right is the difference between building atop a solid foundation or teetering on a house of cards.
The leaders tasked to tackle this challenge: Nicole Kelly, Head of Marketing at RBCx, and Hector Crespo, Head of CX and Design at RBCx (and formerly Head of Strategic Design at RBC Ventures).
Together, Hector and Nicole set out to tell the story of the newly united RBCx, help define its vision and mission, and find a way to communicate it all to the public in a way that made sense and stirred excitement. As you can imagine, this was a complicated task that presented unique challenges. Hector and Nicole understood it demanded a complete team effort that balanced raw inspiration with controlled creativity, as well as the alignment of multiple stakeholders.
How exactly did they do it? Below, we talk with Hector and Nicole about what it took to orchestrate the rebrand of RBCx into an ambitious new mecca for Canadian innovators and entrepreneurs.
When you were first presented the challenge of rebranding two separate entities under a single RBCx brand, how did you structure that process?
Hector:
We have a process we follow that provides structure to what can be a very unstructured creative exercise. The first thing we did was a brand audit. We evaluated each business's (Ventures and RBCx) positioning, visuals, tone, colour, etc. and found both businesses presented themselves in very different ways. We talked to employees at all levels to understand what each brand meant to them, and what brought them there.
From there, you start asking, where are we going next? What values do we hold dear? What's unique about us? This helped us build what we call our 'brand backbone,' which is an articulation of our vision, core values, and differentiators, which in turns informs how we bring this new brand to life.
Nicole:
Starting with very creative, passionate, and smart people who are enthusiastic about what we're building was fundamental to this process. We have an amazing team. Being able to articulate what it is that we do, how we do it, and why we do it in a digestible way-particularly when we're building a business that encompasses areas, from tech banking, to venture capital, to our own venture portfolio–takes work. How do you package something that's fundamentally different and incredibly disruptive? Where do you draw inspiration from?
In the midst of all this creativity, we made sure all of the excitement and inspiration was anchored to something, and not just pure chaos, by following the process Hector described.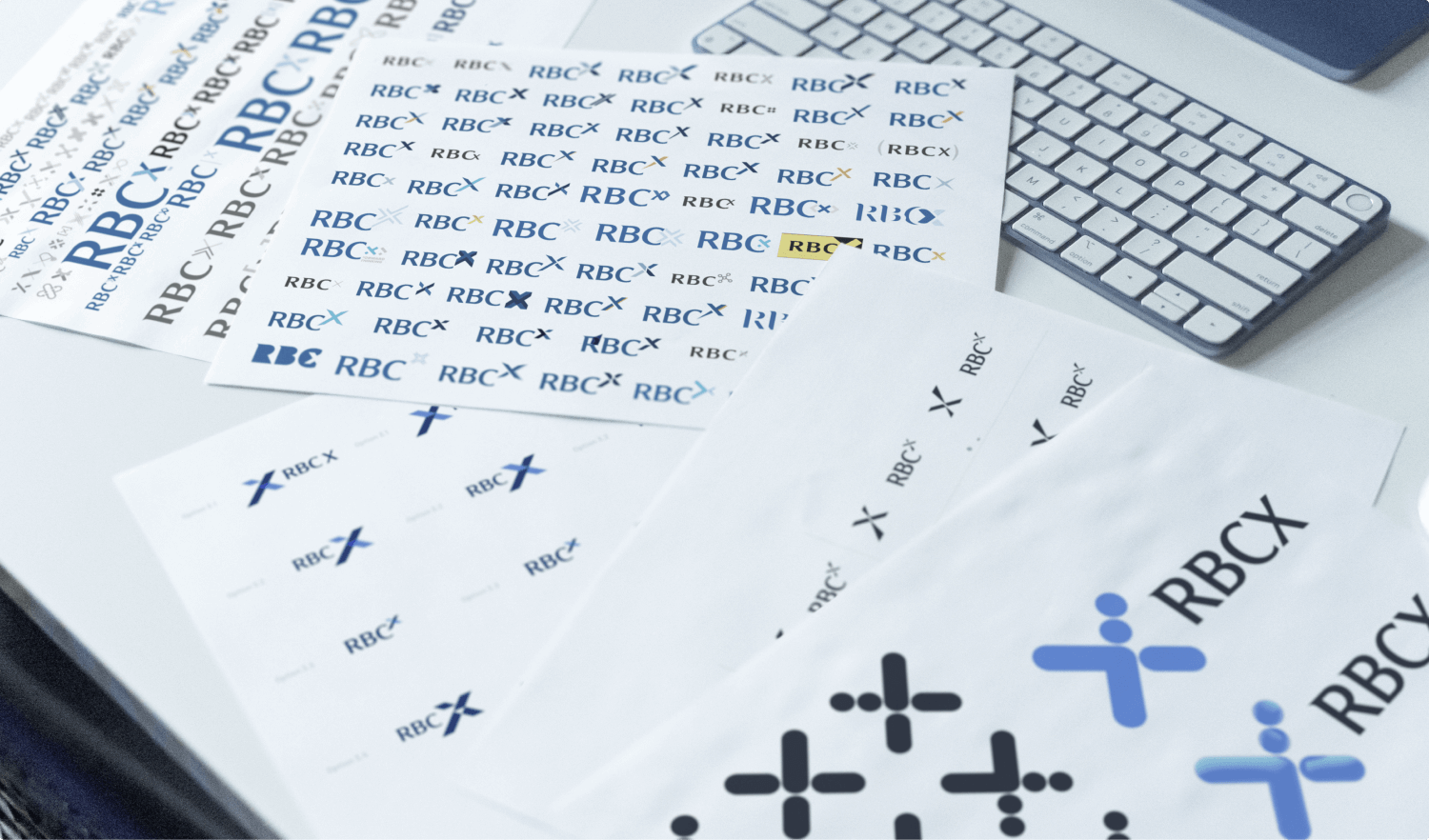 So much of branding is storytelling. What story are you trying to tell, and what do you hope people will take away from this rebrand?
Hector:
That we are the go-to place for innovators in Canada, and beyond. Whether you're an entrepreneur who joins our organization to bring your ideas to life, or an existing business looking to dramatically accelerate your growth, or a technologist wanting to build leading-edge products and services, our story is that we fuel innovation. We power the bold. That's the essence of who we are and the story we want to tell the world.
Nicole:
That RBC is showing up for founders, startups, scaleups, investors, and the innovation economy at large. There's no other single financial institution genuinely trying to build a new platform for tech companies to scale. We're doing something different. We're trying to be something different. The biggest thing I hope people takeaway is that this isn't an end state. This is really just the beginning.
What are some of the challenges you had in articulating this rebrand?
Hector:
We don't just do one thing. Any time you offer a broad suite of products and services across four core business areas and across multiple industries, that value can be difficult to communicate simply. That's the challenge. But, as a designer and communicator, it's the type of challenge you enjoy.
What steps did you take, end to end, to get this rebrand to a place you feel comfortable and confident with?
Nicole:
It was a very iterative process: adding to the story, going back, throwing things out, starting again. For example, at the very end of this process, we went back to the mission and vision statement and said, 'you know what, this doesn't hold up anymore. It's not following the path that we're going.' So we scrapped it and went back to the start. It was a process that evolved and definitely wasn't linear in many aspects.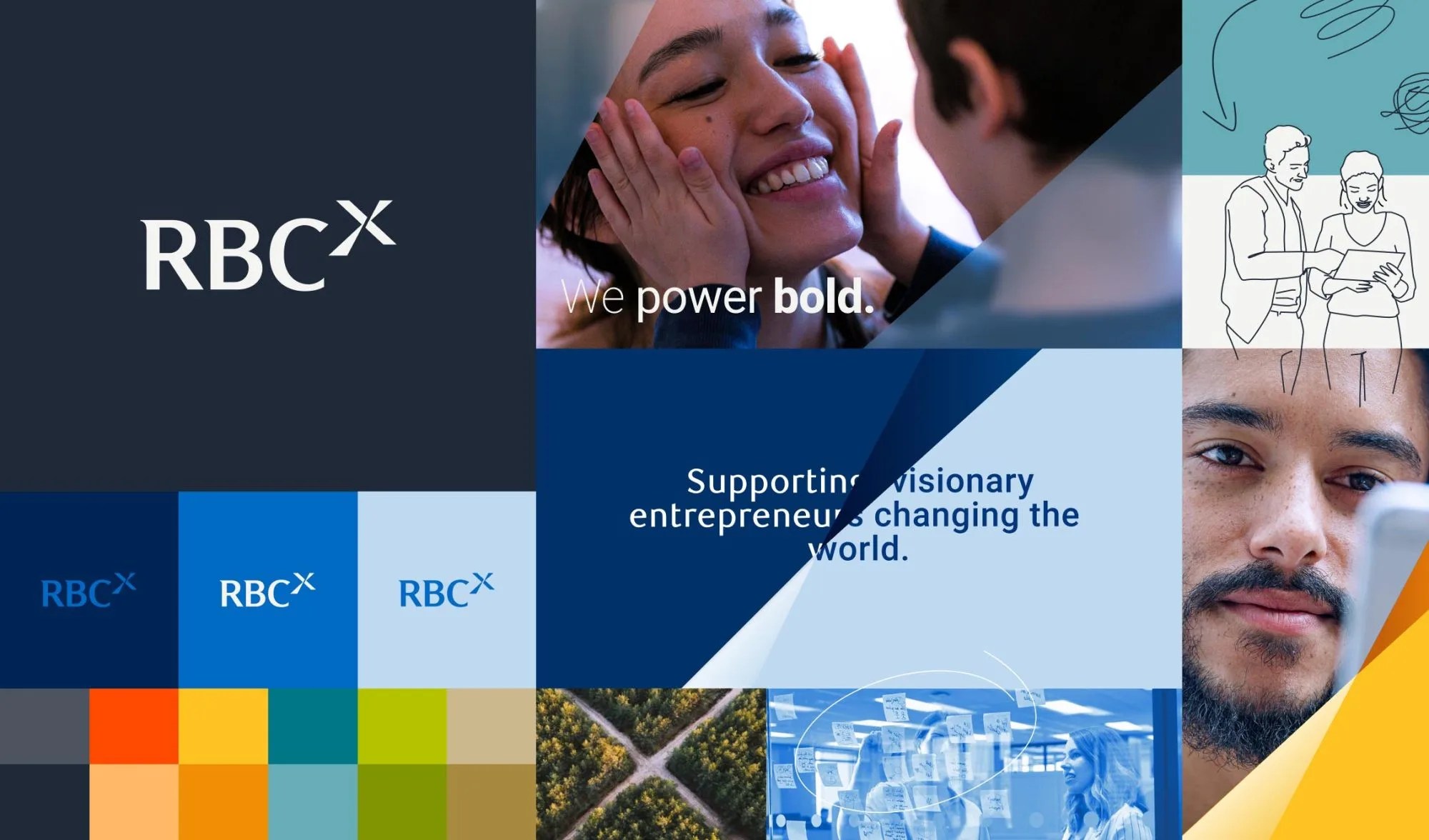 Let's pretend it's now 2024. What do you hope this rebrand accomplishes when you look back at it?
Hector:
Externally, a brand works when it perfectly reflects the value a business delivers. Internally, it works when a brand embodies the passion and values of the people who work there. It has to connect with both audiences. It's not about a great colour palette, catchy headline, or cool website.
Looking ahead, we know our brand works when our clients tell us we deliver what we promise, and our employees say, with pride, 'you know what, I work there.' Beyond the rebrand, the things we're working on to merge RBCx and Ventures and create a better organization, make me believe we'll get there.
Nicole:
If an entrepreneur can truly say, 'RBCx really helped me and my company grow.' Success is when we are known by name and brand, but, most importantly, it's the trust and reputation associated with doing great things. This rebrand is symbolic. It's a moment in time in which we bring everything to the table to unlock potential for tech companies, and a promise to those changing the world that we're here for them. If we can do that while also attracting, inspiring, and developing colleagues and team members who are proud to be part of this journey, then we did it right. Let's go!
Follow Nicole Kelly and Hector Crespo on LinkedIn to hear more from these RBCx leaders.
This article offers general information only and is not intended as legal, financial or other professional advice. A professional advisor should be consulted regarding your specific situation. While the information presented is believed to be factual and current, its accuracy is not guaranteed and it should not be regarded as a complete analysis of the subjects discussed. All expressions of opinion reflect the judgment of the author(s) as of the date of publication and are subject to change. No endorsement of any third parties or their advice, opinions, information, products or services is expressly given or implied by Royal Bank of Canada or its affiliates.
RELATED TOPICS
Other articles you may be interested in